Music Medley
First Concert of Our 2023/2024 Season!
Presented by Friends of the Dearborn Symphony
70's and 80's Songs We Know and Love!
"Join us for a special performance with Donna Kallie on Piano/Flute and Mark Kesson on Guitar/Vocals performing songs from the 70's and 80's; playing songs you know and love. Find the lyrics on your cellphone and sing along! It will be a wonderful afternoon of music. We look forward to seeing you!"
Sunday, October 8, 2023 3:00 p.m.
Followed by a reception and a chance to meet the musicians.
$25 or $20 for FODS members
For tickets, call Jane Mykytenko 313-657-2776 or email janeel1@me.com
Diaper Drive
In conjunction with the Family Luncheon on October 8, the Diaper Ministry will be holding a diaper drive. Everyone is welcome. We are in need of diapers in sizes 4 to 7 as well as pull-ups in sizes 2T through 5T. So far this year, thanks to your generosity, we have donated 8,556 diapers and 8,000 wipes to Starfish and First Step. Access to an adequate supply of diapers has a tremendous impact on the health and well-being of children. Please join us on October 8, and thank you for your continued support of this important ministry.
Book of the Every Other Month Club
Book of the Every Other Month Club has rescheduled its discussion of "Demon Copperhead" for Saturday, October 21 in the North Parlor at 10:00 AM. Please note: this is a change from the prior announced postponement to October 14.
We will meet as scheduled November 11 to discuss "Arc of Justice: A Saga of Race, Civil Rights, and Murder in the Jazz Age" by Kevin Boyle.
Adult Education
The Adult Education class invites you to join us on Sundays at 9:00 a.m. as we finish our study on the Chosen as we explore Jesus through the eyes of those who were the closest to him. We will begin on September 24 and meet through December 17. No class on October 22 and November 26. If you have not previously joined us for discussion on the first two seasons, that is o.k., join us anyway! We hope to see you there!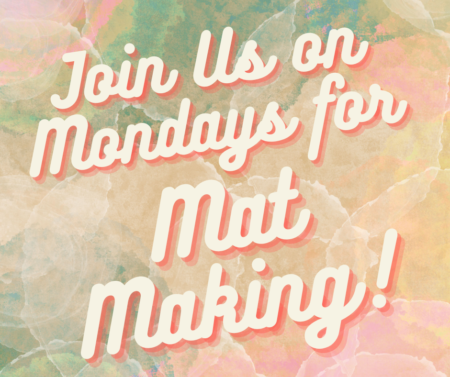 Mat Making
Mondays 6:00 p.m. – 8:00 p.m.
Come learn how to weave recycled plastic shopping bags to make 6'x 3′ sleeping mats for the homeless. They are lightweight, washable, and easy to roll up and carry. Most are taken to local homeless shelters and some have even made it to the Ukraine. Bring your own bags and a friend or use our supply of bags and make new friends. You will be helping those in need and the environment. Mark your calendar for Monday evenings.
GriefShare
GriefShare Series began on Monday, July 24. It runs 7:00-8:30 p.m. at First Presbyterian Church of Dearborn.  A GriefShare support group is a safe, welcoming place where people understand the difficult emotions of grief. Through this 13-week group, you'll discover what to expect in the days ahead and what's "normal" in grief. Since there are no neat, orderly stages of grief, you'll learn helpful ways of coping with grief, in all its unpredictability—and gain solid support each step of the way. 
Cost is $25 which includes the workbook and snacks. To register call Chris at 313-575-5853 or go to: griefshare.org to sign up.
Family Lunch
Join us for a complimentary lunch on the second Sunday of the month, after worship. We will plan a simple meal with beverages and dessert included.
 Any questions or would like to help, call Chris Mayer @ 313-575-5853
Attention All Presbyterian Women!
Presbyterian Women Bible Study resumed.
We are studying the Presbyterian Women Horizons Bible Study, "Sacred Encounters, The Power and Presence of Jesus Christ in Luke-Acts," by Olive Mohair.
Jane Mykytenko and Charlie Aronson
Food Pantry
We are now collecting food items for the Cherry Hill Presbyterian Food Bank every week instead of just once a month. The bins will be in the narthex as usual. We ask that as you go out the door to church you grab some needed item and bring it with you! The need is great because a federally funded program has come to an end and more people are in need of more help. Please note: in addition to food items, the pantry is in need of household items such as toilet paper, toothpaste, paper towels, kleenex, dish detergent, shampoo and conditioner, and bar soap.
Card Ministry
We will be meeting in Mitchell Hall. During the program year, a group of people who enjoy crafting and serving others to make cards for our homebound/special care members and those who have a special need going on in their life. If you enjoy stamping, coloring, using die cutting tools, OR just want a fellowship opportunity, then join us! (we have treats too!) ALL are welcome, no experience necessary. There are tasks for every level of participation.