First Presbyterian Church of Dearborn
Recent Live Stream Service
Noel Night
Annual Christmas Dinner at the First Presbyterian Church of Dearborn
Sunday, December 3, 2023 from 6:00 to 8:00 p.m.
Bells of Heaven
Carols led by Sanctuary Choir
"Belle" Marie Shearer
Susan Anzicek "Christmas Hats" Program
Tickets on sale in the Narthex after the worship service
$20 for Adults
$10 for Children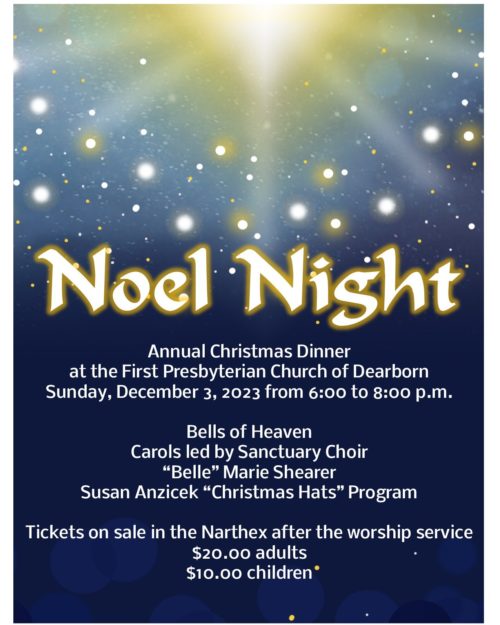 Meaningful Experiences of Worship
Provide opportunities for people to connect in a worshipful way with God and with God's people. We recognize that corporate worship with music, liturgy, and proclamation is important. We also recognize that worship is broader than Sunday mornings. Therefore, as a Church our focus is worship with two or more of the community of God's people partnering to connect with their creator in spirit and truth.
Partner with God in His Plan
Discover where God is already at work around us. We are responsible to follow God's call there. Engaging community leaders and participating in the community will be key to the discovery, as Paul did in Acts. We believe if we are obedient to God and faithfully follow His call beyond our walls, God will bless our community inside our walls as He sees fit. As the Church of Jesus, we have a priority on relationships over programs, and His Kingdom over our Institution.
Connect a New Generation to Jesus
introduce those in the community who do not know Jesus to his promises of hope and restoration. We understand that younger generations do not have the same priorities, perspective, or assumptions of the "Churched" generations. We believe that Jesus has always been and will always be relevant to human life and community regardless of cultural trends. We desire to learn to communicate the difference Jesus makes in our lives and community to those outside the Church. Spiritual renewal and transformational encounters with Jesus are urgent in our own lives to fill us with the creative thinking, intentionality, authenticity, selflessness, and grace to build connections. We become the fragrance of Christ.
What We Believe
Presbyterianism is a part of the Reformed tradition within Protestantism. Presbyterian theology typically emphasizes the sovereignty of God, the authority of the Scriptures, and the necessity of grace through faith in Christ. We are a congregation of the Presbyterian Church (USA). For more information on our denomination, visit the PC USA Website.
First Presbyterian of Dearborn 2022 Annual Report
Support Our Ministry
If you feel called to support the ministries of the First Presbyterian Church of Dearborn, you can make a secure online contribution.  Donate Online